The most important thing you can access on the view menu is Options.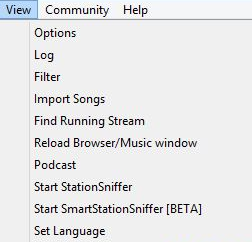 You'll also be able to:
View the log (VERY important when asking for support - you should always send in your log when you run into trouble)

Filter - Tell StationRipper to record or exclude specific songs

Import songs - Already have songs that you've recorded? Use this to import them into the StaionRipper database, so it won't re-record them

Find Running Streams - Already have a station playing in your player? Use this to let StationRipper connect and record it

Reload Browser/Music Window - same as clicking reload on the toolbar (re-loads the main page)

Podcast - want to record Podcasts and don't know the URL? Click this to see a directory of Podcasts to record

Start StationSniffer - want to record Web 2.0? This is one option - SmartStationSniffer is better, but you can use the older sniffer if you run into problems

Start SmartStationSniffer - record Web 2.0 Radio Stations

Set Language - StaionRipper supports English, French, German,and Danish.
Created with the Personal Edition of HelpNDoc: Full-featured EBook editor