THANK YOU for buying StationRipper! This helps pay for the web sites the main app uses, and really helps a lot with continuing development of the software. Users like you are WHY the application has grown over the last 10 years!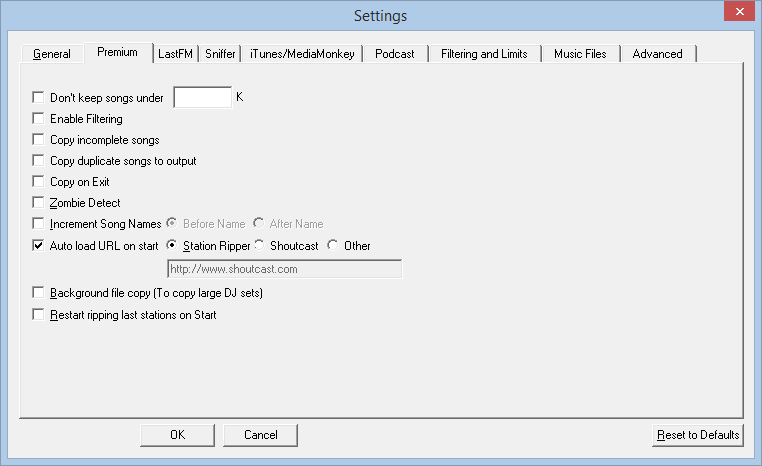 Don't keep songs user X

- often, commercials and DJ's will create small files. Setting this will help StationRipper skip these. 512000 would be a reasonable number to try.

Enable Filtering

- If you've set filters, check this to enable them

Copy incomplete songs

- If StationRipper doesn't get a complete song, it will delete it. If you'd like to keep these, check this box

Copy duplicate songs to output

- If StationRipper has already recorded a song, it will usually discard the duplicate. Checking this will force it to re-copy

Copy on exit

- When existing, if this is checked, StationRipper will copy whatever songs it is currently recording (and they will likely be incomplete)

Zombie Detect

- Very rarely, a plugin may fail. Checking this will monitor for that happening

Increment Song names

- Add a index number before or after the song name

Auto load URL on start

- The main StationRipper window is a web page. This will let you control what site is initially shown. The default it StationPortal.

Background file copy

- If you're copying really big DJ sets (several hours per "song"), the app can get sluggish when copying. Check this to enable background copying, which will fix that

Restart ripping last stations on Start

- If this is checked, when StationRipper is re-started, it will automatically start recording all stations that were being recorded when you last exited.
Created with the Personal Edition of HelpNDoc: Free help authoring tool