This tab controls the sniffers.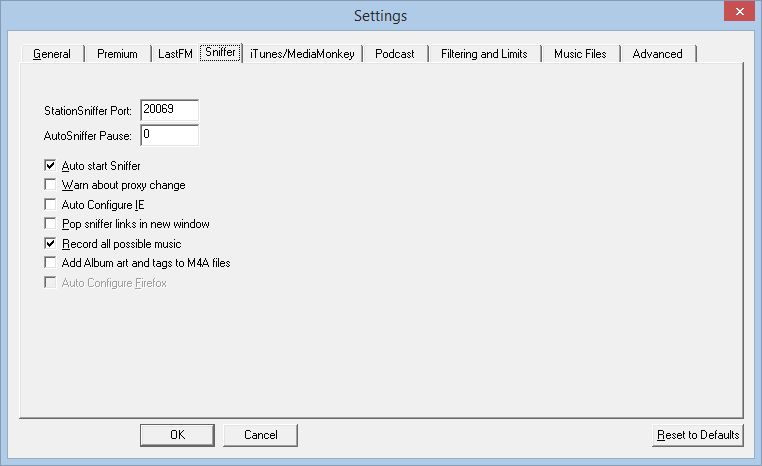 StationRipper has the original proxy-based sniffer, and the LSP based SmartStationSniffer. Both can record Web 2.0, like Pandora. It's recommended that use the new SmartStaionSniffer.
Options that the older sniffer uses:
StationSniffer Port

. The sniffer creates something called a "Proxy". You'll send all browser traffic though the sniffer - this lets it look for things like music files, saving them off to your harddrive when it sees one. To do all of this, it opens a "Port", which your browser will use to use the sniffer proxy. This field allows you to enter it.

Warn about proxy change

- This will pop a reminder that the sniffer proxy is being set up

Auto configure IE

- if checked, this will automatically configure IE to use the sniffer as a proxy

Pop sniffer links in new window

- when you click on a Web Radio 2.0 link on the portal, that link link will launch in a window outside of StationRipper
Options that both use:
Auto start Sniffer

- When you click on a Web Radio 2.0 link on the portal, this will automatically start the sniffer

Record all Possible music

- If this is unchecked, the sniffers will only save music files from sites they know about. If checked, they will save any media files from ANY site

Add Album art and tags to M4A Files

- If checked, the sniffers will attempt to get album art, and will add information about the songs to the music files.
Created with the Personal Edition of HelpNDoc: Easily create EBooks